Femme Reigns Supreme in "The Ecstasy of Saint Britney" at Ceysson & Bénétière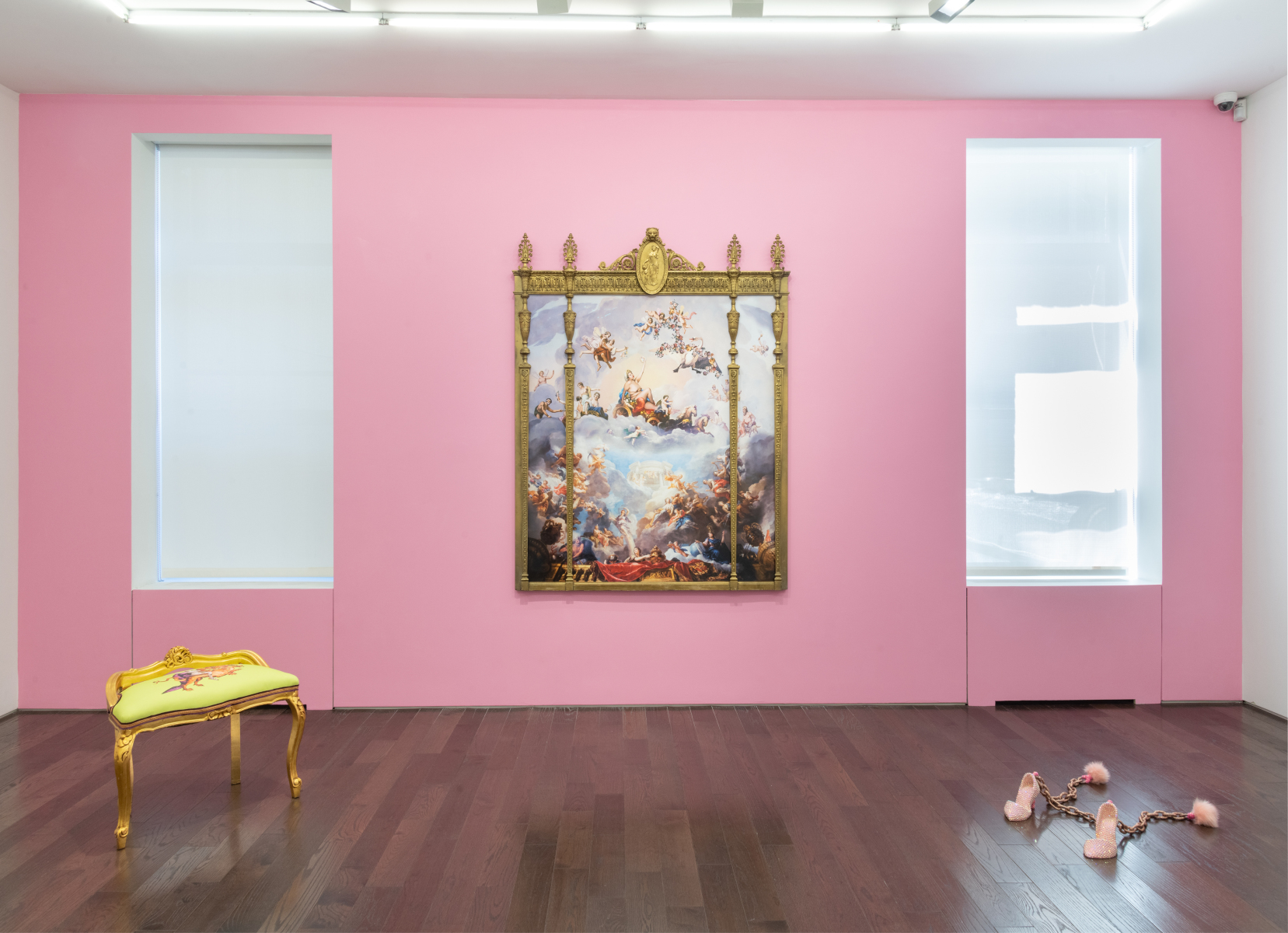 "When did femme become evil?" asks curator Francesca Pessarelli in The Ecstasy of Saint Britney, a new group show at Ceysson & Bénétière. Full of pink, glitter, and excess, the show questions why contemporary culture villainizes people like Paris Hilton and Britney Spears, the namesake of the exhibition along with the Baroque, marble masterpiece of Gian Lorenzo Bernini memorializing the ecstasy of Saint Teresa di Avila. Championing all things feminine as healing, powerful, and beautiful, the show rejects femmephobia and reminds the viewer of a time when excess was embraced and ecstasy was worth celebrating in stone.
With bright pink walls, the gallery space has been transformed to resemble a boudoir fit for Barbie. Hanging from the ceiling in the front room is a rhinestone-encrusted, oversized chain by Ali Hval. Referencing the German fairytale and Disney princess, the work is titled Rapunzel Chain (2019). Underneath the chain is a furry pink rug that sits on the floor. Innocence and playfulness are balanced with hints of sensuality. Hval's overt pairing of fairy tale themes with materials and objects associated with sex feels triumphant. While Rapunzel's long hair allows for her liberation from the tower, her bedazzled chain suggests a sexual liberation.
Also a nod to Disney and the tale of Cinderella that inspired the film, Hval's Stroke of Midnight (2022) features pink rhinestone high heels attached to chains and pink pom poms. Though used for restraint, the chains appear not to hold the high heels back. Instead, they accompany the wearer, carrying the perky pom poms and waiting to be put to use, perhaps to stroke, at the stroke of midnight.
Also using rhinestones is Rachael Tarravechia, whose interior scenes welcome the viewer with cheerful items like flowers and a smiling telephone in red and pink hues. Cheer quickly dissolves into terror as sinister items reveal themselves, like a knife being weilded in a mirror, broken glass from a window scattered across the ground, and a hammer sitting ominously on the edge of a sink. "Their cinematic quality feeds our nostalgia for the tween films of the early aughts," Pessarelli explains, adding that Tarravecchia never lets the viewer "forget the relentless girl-on-girl hate those stories perpetuated."
Girl-on-girl hate is perhaps best exemplified in the 2004 classic Mean Girls, in which Regina George, played by Rachel McAdams, states to her devotees, "on Wednesdays we wear pink," instantly solidifying the color as a tool to represent the popular girls, the bullies. The artists in the show fight against this characterization and reclaim pink as powerful, determined, and sensual.
Pink is the main ingredient in Yvette Mayorga's heavily textured vase paintings hanging on the wall. With thick, candy-like layers, her surfaces look as if they are made of icing. Hidden in the sugary sweet piping are objects of 90s nostalgia including a gold chain necklace bearing an image of Tweety Bird and hot pink flip phones in Tweety Hot Lovers (After Century Vase, c. 1876) (2021). Bows, flowers, and pillowy clouds decorate the bubble gummy surface.
Though bright and cheery, Mayorga's works also reference contemporary issues including the trauma of immigration and the increased militarization of society. In American Urn 3 Here, (After Madame Victoire vases at Chateau Versailles) (2021), the Rococo-inspired vase is adorned with two pink guns along the top. Underneath in pink rhinestones are the words "bye bye". Pulling the viewer in with a saccharine surface, Mayorga delivers powerful messages upon closer inspection.
Also taking inspiration from art and design history are Anna Cone's densely-packed, figural works that resemble Renaissance and Baroque allegorical and religious paintings. Taking back the male gaze from the men who created the historic works that serve as her inspiration, Cone's paintings feature triumphant, nude women surrounded by angels and putti. In I Sit As Queen (2019), a dark-skinned woman sits inside a gold shell, a motif that proliferated with the rise of Rococo and gave the style its name from the word rocaille, meaning pebble or broken shell. Below her, a jumbled scene of figures, including what appears to be Poseidon, devolves into a Hieronymus Bosh-esque depiction of burning towns and a monstrous fish. The work is framed in ornate, carved wood with flowers, scrolls, acanthus leaves, and a shell on top mirroring the shell holding the Queen. Cone and Mayorga's references to past styles are a reminder of a time when opulence and excess were celebrated.
So many words come to mind walking through the show, yet many of them bear connotations that betray the overall goal. Decadent, opulent, saccharine, rich, sensual, titillating, blushing, flowery, fun, pretty, sparkly, femme. Every one of these is fitting to describe The Ecstasy of Saint Britney, yet the show pushes the viewer to reframe how we even think of these terms. Decadent because we are all deserving. Titillating and blushing because sensations should be celebrated. Femme because there is nothing evil, frail, or deceitful about femininity. Perhaps the need for these defenses of language is a testament to how important the conversation is. Femme is deserving of celebration. The artists on view will make sure you leave knowing it.
The Ecstasy of Saint Britney is on view through July 29 at Ceysson & Bénétière, 956 Madison Avenue.
You may also like:
Paintings Thought Lost, Now Found: Top 5 Rediscovered Masterpieces
The Elephant in Greenwich Village: Provocative Public Art
Wigs, Wigs, and More Wigs: Cj Hendry's Blonde Pop-Up Takes Over Brookfield Plaza
Annabel Keenan
Annabel Keenan is a New York-based writer focusing on contemporary art, market reporting, and sustainability. Her writing has been published in The Art Newspaper, Hyperallergic, and Artillery Magazine among others. She holds a B.A. in Art History and Italian from Emory University and an M.A. in Decorative Arts, Design History, and Material Culture from the Bard Graduate Center.