Laurie Simmons and Marilyn Minter Talk Motherhood, Envy, and Inspiration
"The art world loves bad boys and old ladies," Marilyn Minter instructs. The comment is in the midst of an interview for the Art Career Podcast (TAC), in a conversation with host Emily McElwreath about pubic hair— "the eye craves what it doesn't see," Minter says coyly—jealousy, and a desire for representation of mediocre female artists.
Founded earlier this year, TAC hopes to break down barriers to the art world through frank conversations about creativity, finances, and self-marketing with artists, gallerists, arts-tech entrepreneurs, and more. Based on an intimate understanding of the art world's exclusivity, host McElwreath and director Morgan Everhart want to "demystify the art market," and "challenge the status quo."
In its inaugural episode, McElwreath makes good on the show's promise. "I don't know anybody who thinks they made it as an artist," Minter tells her. Despite Minter's indisputable success—she's shown at the Whitney Bienniale, MoMA, and received a Guggenheim fellowship—the comment reads as a refreshing window into a person who might appear immune to self-doubt.
"That's like saying, once you make it as an artist, what are you going to do next? I think it's just this kind of journey all the time," Minter continues. "The creative process is about making things from your vision. It doesn't stop once you start to make money from it."
For both up-and-coming and established artists, Minter offers wisdom about grappling with jealousy and senses of inadequacy. "I get to the point where I see a really good artist, and I go, 'oh god, I wish they'd die.' That's my first thought," she teases. "But that's all bullshit. I just do the opposite action … I go over to the girls and the boys I'm really jealous of, and I go, 'oh god, your work is so good' … Once you say those words, the poison drains. And then you're colleagues."
Endlessly quotable, the conversation is full of delightful insight and provocative one-liners. "Everyone loves their children," Minter says, pausing for the punchline. "And porn."
Yet McElwreath, in her banter with Minter, pushes the conversation to a place of greater depth and vulnerability. In a candid discussion about addiction and sobriety, Minter lends perhaps the greatest insight of the episode: "When you're an addict, you really know how you're going to feel all the time. Life doesn't allow that. Learning how to tolerate that is the big lesson."
In her art, she has translated this knowledge into a surrender of control. "I don't try to make things happen anymore," Minter says. "I just make my work and hope the zeitgeist catches up to it."
Speaking with Minter's colleague and friend, Laurie Simmons, McElwreath brings a similar levity, humor, and earnestness to a conversation with another contemporary art icon.
Similar to Minter, Simmons and McElwreath emphasize the unavoidable pressures one faces as an artist, both internal and external, offering tools to navigate them.
"I know how it feels to compare yourself to artists," Simmons says. "We always say as artists: we can find one thousand ways to feel bad. It's part of the artist's mindset, finding new ways to make yourself feel terrible. It's so important to write yourself a narrative that plays against those tendencies and instincts."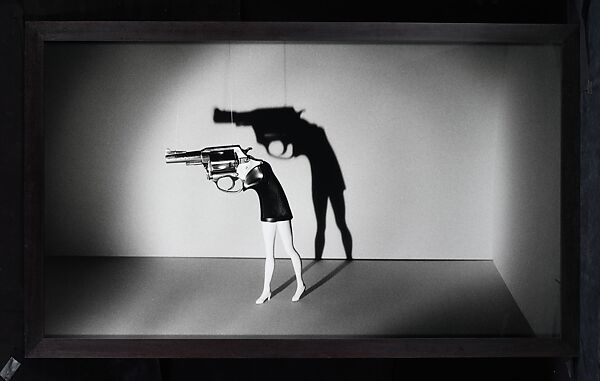 "Colleague envy, distress about whatever other people are doing, that's not what's best for your business. What's best for your business is to keep your head down and make the best work you can."
For Simmons, that means keeping herself interested. She keeps her creative inspiration alive by pivoting—looking for new ways of thinking and talking about her work. "If you're bored," Simmons says, "you're done."
In a timely end to the episode, Simmons and McElwreath talk frankly about Roe v. Wade and the expectations of motherhood in the art world. "We remember the before times. We remember how bad they really were," Simmons says, referring generally to people in her generation, and more specifically to her colleague Marilyn Minter ("we both marched on the Pentagon").
Beyond judicial attacks on reproductive rights, Simmons hopes that the art world will rethink how it understands motherhood and bodily autonomy.
"Motherhood is an issue in our world," Simmons concludes. "It's a kind of mythology about who and what an artist is. Picasso didn't have to make a choice. Julian Schnabel has a fairly high number of children. For men, it's always been a demonstration of their manhood and their virility and their power. For women, it's always been some kind of diminishment to allow motherhood into your life. And I resent that."
Season 1 of The Art Career podcast is available on all major podcast streaming channels. 
You May Also Like:
The Art of Porn: Pornhub and Maccarone Present "The Pleasure Principle"
Revisiting Abortion Activism: 'Abortion Stories 2022' This Weekend at Tompkins Square Park and Cindy Rucker Gallery
Post-Breakup, Artist Duo Nathalie Djurberg and Hans Berg Present Their Most Intimate Work